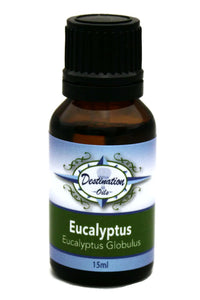 Destination Oils
Eucalyptus Essential Oil ~ 15ml ~ Pure
Regular price
$ 12.99
$ 0.00
 Eucalyptus essential oil is the one most grab when dealing with sinus congestion due to colds and flu. From the Eucalyptus Globulus tree, it is best know as a decongestant that clears airways. It can also be used in skin recipes, especially for oily skin or if dealing with chicken pox or shingles. It is also a deterrent to many bugs, including mosquitos and lice.
Specific Uses:
Supports a healthy respiratory system
Can help clear congestion
May improve mental clarity
Repels bugs
Eases muscle aches and pains
Apply topically along spine to boost immune response
Use with Lemon and Peppermint to create a very effective multi-surface cleaner
Eucalyptus Essential Oil - 15ml
Botanical Name: Eucalyptus Globulus
Country of Origin: China
Extraction Method: Steam Distilled
Aromatic Scent: Fresh, clean strong herbal scent
Perfumery Note: Top
Historical Uses / Properties: Antibacterial, Antibiotic, Analgesic, Antiseptic, Antiviral, Cicatrisant, Deoderant, Decongestant, Expectorant, Febrifuge, Rubefacient, Stimulant
Body Systems Supported: Respiratory, Skin, Immune
Blends well with: Rosemary, Lavender, Marjoram, Pine, Cedarwood, Lemon, Peppermint
Chemical type: Oxides
Can be used with children older than: 3 years
Based on the most recent recommendations of the Tisserand Institute, Eucalyptus can be diffused around children. Topical dilution recommendations are 0.5% for children under 3 years and 1% for children 3-6 years old. Do not apply directly to or near the face of infants or children under 10 years of age.
All Destination Oils are 100% pure, therapeutic grade essential oils.
Essential oils are incredibly concentrated and powerful so ensure safe use by properly diluting with a carrier oil. Always test for skin sensitivity prior to widespread use. Keep out of eyes, ears, or nose. Keep oils tightly closed and out of the reach of children. Do not ingest essential oils unless guided by a trained professional.
The information provided on this website is only our opinion, and is not intended as medical advice or diagnosis. Statements have not been evaluated by the FDA and are not intended to diagnose, cure, treat or prevent any disease. Information on this page should not be interpreted as medical advice, meant for diagnosing illness, or for prescriptive purposes. Always discuss any essential oil use with your doctor or trained aromatherapist.
---
More from this collection