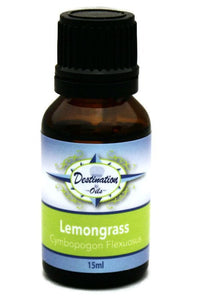 Destination Oils
Lemongrass Essential Oil ~ 15ml ~ Pure
Regular price
$ 13.99
$ 0.00
 Lemongrass essential oil has a favorite use as a natural insect repellent. From the Cymbopogan Flexuosus plant, it is natively harvested in India. Put in a foot bath to refresh tired feet- it may also decrease excessive feet sweating.  A lot of customers find this oil energizing as well.
Uses:
A great oil to use during massages
Has been used to decrease muscle, tendon, and joint pain
Natural bug repellent
May improve skin appearance due to great astringent properties
Diffuse to improve energy levels and uplift spirit
Pure Lemongrass Essential Oil - 15ml
Botanical Name: Cymbopogan Flexuosus
Country of Origin: India
Extraction Method: Steam Distilled
Aromatic Scent: Crisp lemony aroma with herbal woody undertones
Perfumery Note: Top
Historical Uses / Properties: Analgesic, Antidepressant, Antimicrobial, Anti-oxidant, Antiseptic, Astringent, Bactericidal, Carminative, Deodorant, Fungicidal, Insecticidal, Nervine, Sedative, Tonic
Body Systems Supported: Skin, Circulation, Muscles, Joints, Digestive, Immune, Nervous
Blends well with: Ginger, Peppermint, Lavender, Rosemary, Marjoram, Cedarwood, Lemon
Chemical type: Aldehydes
Can be used with children older than: 5 years
Caution: Maximum dilution of 0.7% is best to avoid skin irritation. Not advised for children under age 2 or those with pre-existing skin issues. Do not use if pregnant.
All Destination Oils are 100% pure, therapeutic grade essential oils.
Essential oils are incredibly concentrated and powerful so ensure safe use by properly diluting with a carrier oil. Always test for skin sensitivity prior to widespread use. Keep out of eyes, ears, or nose. Keep oils tightly closed and out of the reach of children. Do not ingest essential oils unless guided by a trained professional.
The information provided on this website is only our opinion, and is not intended as medical advice or diagnosis. Statements have not been evaluated by the FDA and are not intended to diagnose, cure, treat or prevent any disease. Information on this page should not be interpreted as medical advice, meant for diagnosing illness, or for prescriptive purposes. Always discuss any essential oil use with your doctor or trained aromatherapist.
---
More from this collection