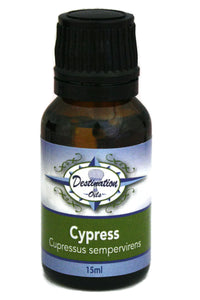 Destination Oils
Cypress Essential Oil ~ 15ml ~ Pure
Regular price
$ 15.99
$ 0.00
 Cypress essential oil has been used for circulation issues, specifically improving the appearance of varicose veins. From the Cupressus sempervirens tree, this oil is very popular in men's personal products. Use in your homemade deoderant recipe to decrease sweating- even on feet! Its grounding properties may be incredibly helpful during times of grief- helping people emotionally move on.
Specific Uses:
Stimulates circulation- use to warm hands and feet
Increases energy
Has been used for varicose veins and to improve swollen legs
May improve symptoms of PMS and menopause- use in hot compresses, baths, or massage blends
Stress reducer- especially helpful when dealing with separation or loss of loved one
Can improve sebum balance in oily skin
Pure Cypress Essential Oil- 15ml
Botanical Name: Cupressus sempervirens
Country of Origin: Spain
Extraction Method: Steam Distilled
Aromatic Scent: Herbal, Fresh, Woody
Perfumery Note: Middle
Historical Uses / Properties: Anti-rheumatic, Anti-septic, Anti-spasmodic, Astringent, Deodorant, Diuretic, Hepatic, Styptic, Sudorific, Tonic, Vasoconstrictor
Body Systems Supported: Skin, Circulation, Muscle, Joints, Respiratory, Genito-urinary, Nervous
Blends well with: Cedarwood, Pine, Lavender, Clary Sage, Lemon, Bergamot, Orange, Marjoram, Rosemary
Chemical type: Monoterpenes
Can be used with children older than: 6 months
All Destination Oils are 100% pure, therapeutic grade essential oils.
Essential oils are incredibly concentrated and powerful so ensure safe use by properly diluting with a carrier oil. Always test for skin sensitivity prior to widespread use. Keep out of eyes, ears, or nose. Keep oils tightly closed and out of the reach of children. Do not ingest essential oils unless guided by a trained professional.
The information provided on this website is only our opinion, and is not intended as medical advice or diagnosis. Statements have not been evaluated by the FDA and are not intended to diagnose, cure, treat or prevent any disease. Information on this page should not be interpreted as medical advice, meant for diagnosing illness, or for prescriptive purposes. Always discuss any essential oil use with your doctor or trained aromatherapist.
---
More from this collection