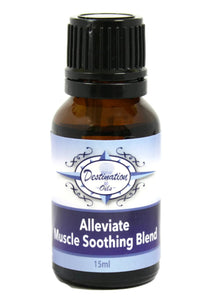 Destination Oils
Alleviate - Muscle Soothing Essential Oil Blend - 15ml
Regular price
$ 26.99
$ 0.00
This oil will "Alleviate" muscles aches and pains. When applied topically, this essential oil blend is great at relieving tension and tightness. Minty and fresh, this blend is a must have in your medicine cabinet!
This fantastic blend contains 100% Pure Wintergreen, Copaiba, Camphor, Peppermint, Clove Bud, Frankincense, and White Fir essential oils- not diluted with any carrier oils. Use a standard 2% dilution of this blend for topical use, younger users and those with sensitive skin should use a 1% dilution.
 Oils in this blend and their benefits:
Wintergreen- stimulates circulation and antispasmodic
Copaiba- loosens muscles, soothes joints, and may improve headache symptoms
Camphor- reduces swelling and increases circulation
Peppermint- provides cooling sensation and relieves pain
Clove Bud- has pain-numbing properties
Frankincense- anti-inflammatory
White Fir- soothes tired muscles
Caution- Do not use if pregnant or nursing. May also prevent blood clotting and interact with certain drugs. Do not use if on blood thinners. Do not use during or directly after viral fever. Do not use on those 12 years or younger. 
All Destination Oils are 100% pure, therapeutic grade essential oils.
Natural & Pure- Essentials YOU Can Trust
Essential oils are incredibly concentrated and powerful so ensure safe use by properly diluting with a carrier oil. Always test for skin sensitivity prior to widespread use. Keep out of eyes, ears, or nose. Keep oils tightly closed and out of the reach of children. Do not ingest essential oils unless guided by a trained professional.
The information provided on this website is only our opinion, and is not intended as medical advice or diagnosis. Statements have not been evaluated by the FDA and are not intended to diagnose, cure, treat or prevent any disease. Information on this page should not be interpreted as medical advice, meant for diagnosing illness, or for prescriptive purposes. Always discuss any essential oil use with your doctor or trained aromatherapist.
---
More from this collection