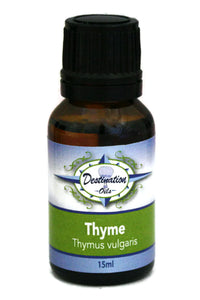 Destination Oils
Thyme Essential Oil ~ 15ml ~ Pure
Regular price
$ 22.99
$ 0.00
 Thyme essential oil (also know as red thyme essential oil) supports many body systems and has many therapeutic properties- making it a very effective essential oil. From the Thymus vulgaris plant, try using pure thyme oil diluted as a gargle for sore throats (spit out after gargling to prevent internal usage). This oil may be helpful when recovering from infections- it has been known to stimulate white blood cells, increase appetite, and revive body and mind (Davis, Aromatherapy A to Z). Emotionally, it may decrease melancholy and the occurrence of nightmares.
Specific Uses:
May be helpful when battling skin issues- use diluted for cold sores, eczema, acne, bruises, burns, and bites
Can stimulate digestion and decrease cramping and gas
Great for respiratory system- has been used to improve asthma symptoms, also used in instances of bronchitis, colds, coughs, croup, sinusitis, and emphysema
May decrease mucus
Pure Thyme Essential Oil- 15ml
Botanical Name: Thymus vulgaris
Chemotype: Thymol
Country of Origin: Spain
Extraction Method: Steam
Aromatic Scent: Fresh, Herbal
Perfumery Note: Middle
Historical Uses / Properties: Anti-microbial, Anti-oxidant, Anti-rheumatic, Anti-septic, Anti-spasmodic, Anti-toxic, Astringent, Aphrodisiac, Bactericidal, Carminative, Cicatrizant, Diuretic, Emmenagogue, Nervine, Rubefacient, Parasiticide, Stimulant, Sudorific, Tonic
Body Systems Supported: Skin, Circulation, Muscles, Joints, Respiratory, Digestive, Genito-Urinary, Immune, Nervous
Blends well with: Bergamot, Clary Sage, Cypress, Eucalyptus, Geranium, Pink Grapefruit, Lavender, Lemon, Lime, Marjoram, Oregano, Pine, Rosemary, Tea Tree
Chemical type: Monoterpenes, Phenols
Can be used with children older than: 2 years
Caution: Moderate risk for mucous membrane irritation, it may inhibit blood clotting and pose a drug interaction hazard. There is a low risk of skin sensitization, and Tisserand and Young recommend a dermal maximum of 1.3%.
All Destination Oils are 100% pure, therapeutic grade essential oils.
Essential oils are incredibly concentrated and powerful so ensure safe use by properly diluting with a carrier oil. Always test for skin sensitivity prior to widespread use. Keep out of eyes, ears, or nose. Keep oils tightly closed and out of the reach of children. Do not ingest essential oils unless guided by a trained professional.
The information provided on this website is only our opinion, and is not intended as medical advice or diagnosis. Statements have not been evaluated by the FDA and are not intended to diagnose, cure, treat or prevent any disease. Information on this page should not be interpreted as medical advice, meant for diagnosing illness, or for prescriptive purposes. Always discuss any essential oil use with your doctor or trained aromatherapist.
---
More from this collection