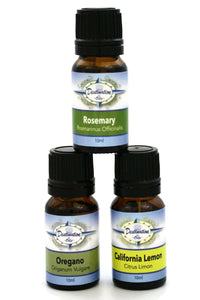 Destination Oils
Kitchen Essential Oils Gift Set- Oregano, Rosemary, Lemon
Regular price
$ 28.99
$ 0.00
10 ml bottle of each Oregano (Origanum vulgare), Rosemary (Rosmarinus officianlis) and Lemon (Citrus Limon)
This is the set you need for your kitchen diffuser! They are all crisp, clean scents that can make it smell like you have been cooking all day! We will keep your secret!
Plus, these oils have great anti-bacterial and anti-viral properties. These are awesome when cleaning kitchens and bathrooms. They can also be used for different ailments topically. I love mixing them together for a super germ-fighting cleaning blend. All I do is take the oils and mix in a glass spray bottle with vodka. Easy peasy!
For more information and cautions regarding the oils in this kit- please visit their individual product pages here:
All Destination Oils are 100% pure, therapeutic grade essential oils.
The best quality for a great price.
Essential oils are incredibly concentrated and powerful so ensure safe use by properly diluting with a carrier oil. Always test for skin sensitivity prior to widespread use. Keep out of eyes, ears, or nose. Keep oils tightly closed and out of the reach of children. Do not ingest essential oils unless guided by a trained professional.
The information provided on this website is only our opinion, and is not intended as medical advice or diagnosis. Statements have not been evaluated by the FDA and are not intended to diagnose, cure, treat or prevent any disease. Information on this page should not be interpreted as medical advice, meant for diagnosing illness, or for prescriptive purposes. Always discuss any essential oil use with your doctor or trained aromatherapist.
---
More from this collection