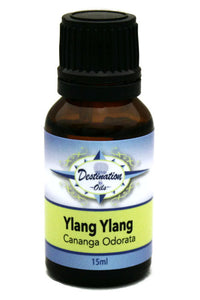 Destination Oils
Ylang Ylang Essential Oil ~ 15ml ~ Pure
Regular price
$ 22.99
$ 0.00
 Ylang Ylang essential oil smells like sweet flowers in springtime! From the Cananga Odorata tree, pure ylang ylang oil has been historically used to slow down rapid breathing and/or heartbeat and decrease blood pressure. Use in hair product recipes to balance oils in hair. Emotionally, ylang ylang essential oil increases the senses and decreases negative emotions like fear, jealousy, and anger. When blending, try adding lemon or bergamot to offset the sweet notes of the ylang ylang oil.
Specific Uses:
 Diffuse to calm and improve mood
May relieve feelings of stress and anxiety
Has been used to improve libido and impotence
May improve skin appearance
Pure Ylang Ylang Essential Oil - 15ml
Botanical Name: Cananga Odorata
Country of Origin: Madagascar
Extraction Method: Steam Distilled
Aromatic Scent: Strong floral aroma with sweetness
Perfumery Note: Middle/Base
Historical Uses / Properties: Aphrodisiac, Antidepressant, Anti-infectious, Antiseptic, Hypotensive, Sedative, Stimulant, Tonic
Body Systems Supported: Skin, Circulation, Muscles, Joints, Nervous
Blends well with: Vetiver, Bergamot, Frankincense, Marjoram
Chemical type: Esters, Sesquiterpenes
Can be used with children older than: 5 years
Caution: Possible skin sensitization- use maximum dilution of 0.8% for topical applications. Do not use if you have pre-existing skin conditions or on children under 5.
All Destination Oils are 100% pure, therapeutic grade essential oils.
Essential oils are incredibly concentrated and powerful so ensure safe use by properly diluting with a carrier oil. Always test for skin sensitivity prior to widespread use. Keep out of eyes, ears, or nose. Keep oils tightly closed and out of the reach of children. Do not ingest essential oils unless guided by a trained professional.
The information provided on this website is only our opinion, and is not intended as medical advice or diagnosis. Statements have not been evaluated by the FDA and are not intended to diagnose, cure, treat or prevent any disease. Information on this page should not be interpreted as medical advice, meant for diagnosing illness, or for prescriptive purposes. Always discuss any essential oil use with your doctor or trained aromatherapist.
---
More from this collection